Pioneer PBS
1 Pioneer Drive, Granite Falls, MN 56241
120 W. Schlieman Ave., Appleton, MN 56208
1-800-726-3178
yourtv@pioneer.org
Pioneer PBS is an award-winning, viewer-supported public television station dedicated to sharing local stories of the region with the world. Since 1966, Pioneer has served its rural audience through a mix of local and national programs rich in cultural heritage, diversity and educational opportunities. Our local programs include:
Pioneer PBS is based in Granite Falls, Minnesota and operates transmitters in Western Minnesota: KWCM-Appleton (Channel 10) and KSMN-Worthington (Channel 20). Pioneer Public Television is a member of PBS and is operated by the nonprofit West Central Minnesota Educational Television Company.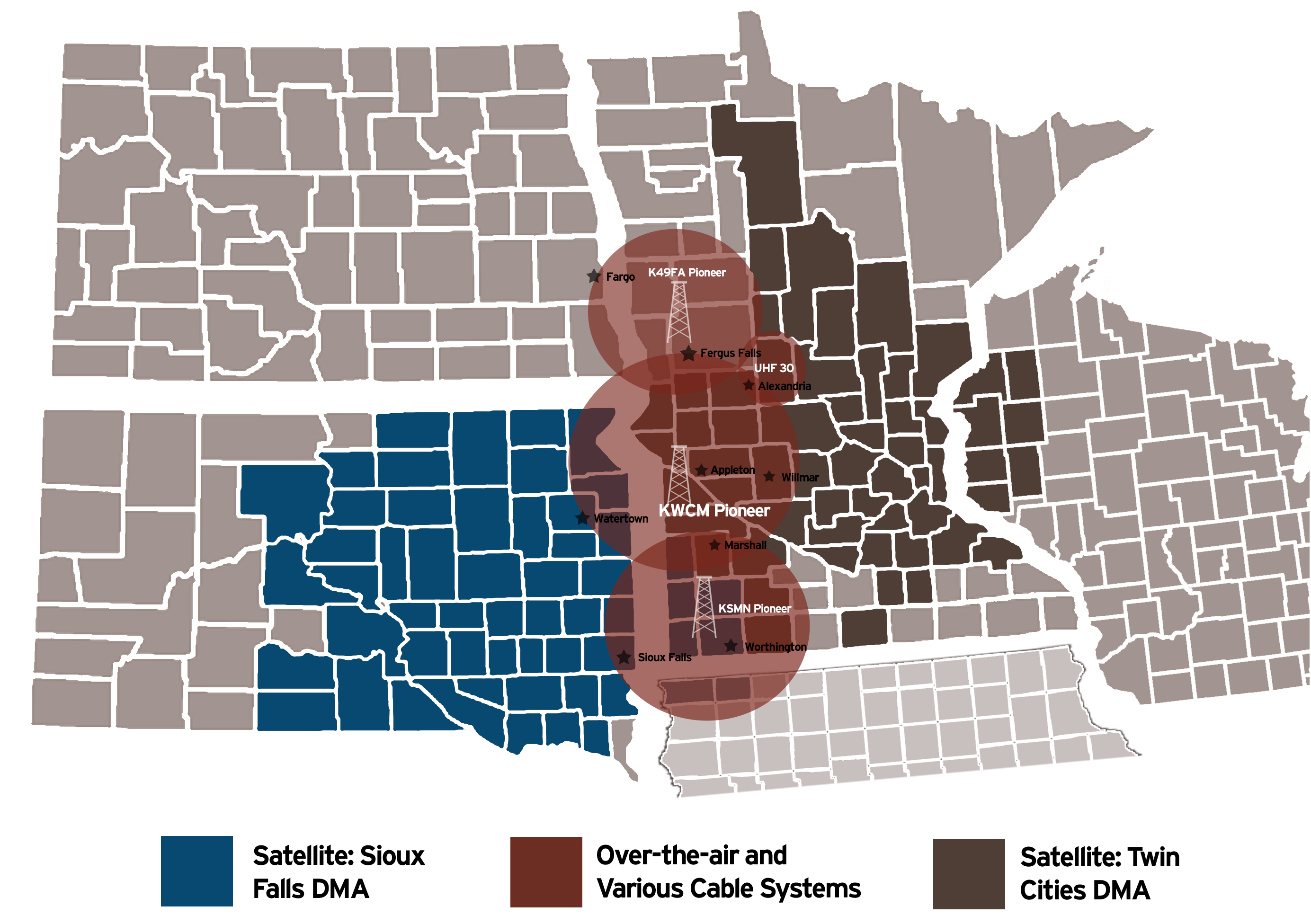 ---
​Mission Statement
Pioneer Public Television's services and programs facilitate educational growth, support cultural opportunities and promote economic development for Western Minnesota, Eastern South Dakota, Northern Iowa and beyond.

Vision Statement
Pioneer Public Television works to broaden, educate and sustain our rural communities through services that reflect our local values. Pioneer strives to be a regional leader and an indispensable resource for our communities.

Values
Pioneer Public Television is committed to the values of:
Relevance Our programming and services are focused on the needs of our viewers.
Localism We tell stories about our region and the richness of its people.
Family We value family as a cornerstone of our work.
Education We believe in the importance of life-long learning for our viewers.
RuralCommunityOrientation We recognize and support the value of living in rural communities.
Independence We believe that Pioneer should remain an independent media voice.
Quality We provide excellent programming of enduring value.
Life-LongLearning We help viewers of all ages learn and grow.

History
Incorporation documents for the West Central Minnesota Educational Television Company were filed in 1959 as part of a plan for a six-state educational television network to serve the Upper Midwest. After several years of fundraising, the company raised enough local, federal, state and foundation funds to erect a 500-foot tower. A repurposed schoolhouse was moved to the transmission site and on February 7, 1966, KWCM-TV broadcast its first educational program.

For more information, watch the Postcard's documentary, Pioneer: The First Fifty Years