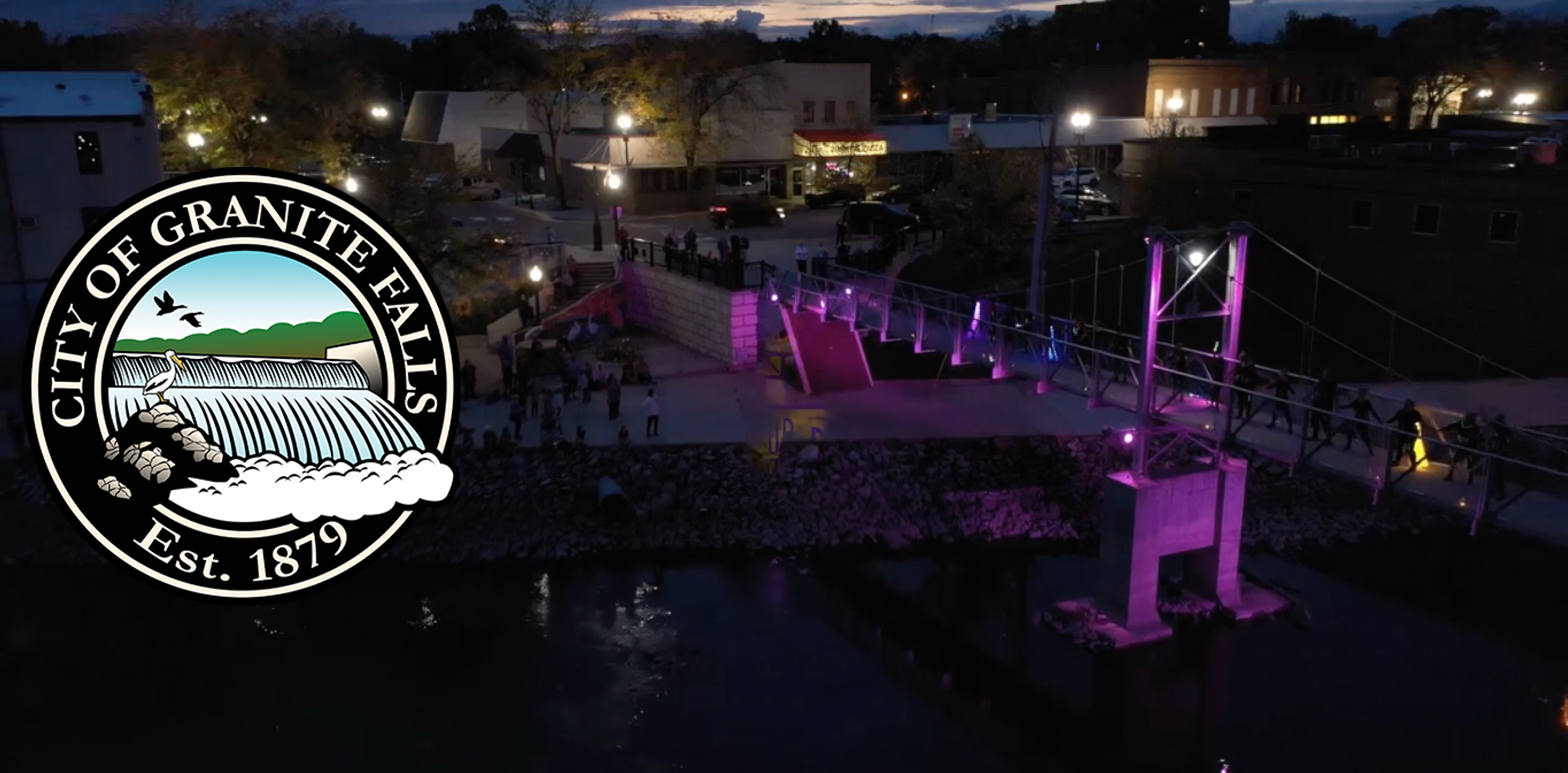 Stories made in Granite Falls
View this collection of stories that were filmed throughout Granite Falls, Minnesota. Each individual story is worth a watch. If you know a good local Granite Falls story, please let us know.
If you like what you see, watch more Pioneer PBS videos here: https://video.pioneer.org/
Postcards
Walter "Super" LaBatte
Artist Walter "Super" Labatte Jr. of the Pejuhutazizi Kapi.
Postcards
Talon Wilson
Talon Wilson shares the story of how he has ended up learning folk arts in Sweden.
Postcards
Fern Cloud
Fern Cloud is a Native American designer and Dakota hide painter.
Pioneer PBS
Meander Opening Night Bridge Dance!
Check out this Meander Opening Night Bridge Lighting video by our own Dylan Curfman of Pioneer PBS featuring the Historic Roebling Footbridge!

with Department of Public Transformation, Fall in Love with Granite Falls, Granite Falls Economic Development Authority, The YES House, Meander: Upper Minnesota River Art Crawl
Compass
Creative Crosswalks
Granite Falls' creative crosswalks are providing a little color to pedestrian safety.
Compass
The best kept secret at Yellow Medicine East: the greenhouse
From aloe to tomatoes to jalapeños — students grow plants that they can eat and use.
Compass
Granite Falls winter solstice
It may be cold and dark, but Granite Falls still gets outside for the winter solstice!
Compass
The Great Evil: Christianity, the Bible & the Native America
The Great Evil: Christianity, the Bible, and the Native American Genocide
Postcards
Joe Hauger
Joe Hauger of Granite Falls crafted his own business out of his passion for woodworking.
Postcards
Postcards: Nicole Zempel, Mushroom Foraging
Nicole Zempel searches western Minnesota's prairies for fungi. Learn about spore print art
Prairie Sportsman
Woodland Bounty
Foraging for wild plants and mushrooms in the Minnesota River Valley.
Compass
The View From Here: Ashley Hanson | Artistic Infusion
The View From Here: Ashley Hanson and small town artistic infusion.
Pioneer PBS
Creative Community Design Build SWMHP
Learn about the creative community design build process that the Yes! House and the Polo's Building both utilize to make change happen.
Postcards
Fagen Fighters & History Preservation
Learn more about Fagen Fighters WWII Museum in Granite Falls, Minnesota.
Postcards
PlaceBase Productions
PlaceBase Productions is featured.
Postcards
Volstead Fever: Prohibition in Minnesota
The home of Andrew Volstead, secrets about Bootleggers and local brewers.
Postcards
Bluenose Gopher House
Bluenose Gopher Public House inspires the community in Granite Falls.
Compass
Moving Lives Minnesota | Dear Minnesota | Les Bergquist
Les Bergquist shares his family history for the Moving Lives Minnesota project.
Postcards
Granite Falls Popcorn Stand
Les Berquist talks about the historic popcorn stand in Granite Falls, MN.
Postcards
Tamara Isfeld
Tamara Isfeld believes in getting art out of the classroom and into the community.
Compass
A personal final farewell from a sheriff's deputy
Tim Yerigan wrote his own obituary, or final goodbye letter, to his family and community.
Compass
This dough is so fresh, it's Doughp Creations
Michele Huggins' doughp bread making process and philosophy.
On Stage
Jerry Ostensoe
Jerry Ostensoe performs at the Historic Opera Hall in Appleton, Minnesota.
Pioneer Digital Studios
Manhood in Rural America: Unmanliness
Is there anything about yourself that some people might consider "unmanly"?
Pioneer PBS
The historic Roebling Footbridge lighting
The historic Roebling Footbridge in Granite Falls was adorned with lights and had its inaugural illumination on Dec. 6.
Prairie Sportsman
Curt Soine
In Curt Soine's studio in Granite Falls.
Prairie Sportsman
Ginger's Conservation Legacy
Ginger Homme's soil, water quality and energy conservation practices.
Pioneer PBS
Nick Molle Kayaking Adventure
Nick Molle Productions / Rocky Mountain Channel filmmaker Nick Molle got a taste of the Minnesota River from downtown Granite Falls to Kinney's landing!